What is advanced flight search?
Advanced flight search is useful if you have a specific flight in mind, and you can't find it through regular search. For example if you know you want to book a 6.30pm singapore airlines flight from Singapore to Malaysia, then this is the feature for you to pin down the flight results.
How advanced flight search works?
Advanced flight search is available for One Way and Return flight searches. You can initiate advanced flight search by clicking the "Advanced search" button right under the airport selection cards.

Once clicked, two new forms will pop up, first is the airline selection, and second is the time of departure filters. Just click on the "Add airline" button and start typing to find your preferred airlines. Don't forget to click on it to save your selection. You can also add multiple airlines in this field.

For the time of departure filter, just slide the time selector to your intended departure time. The changes will be automatically saved.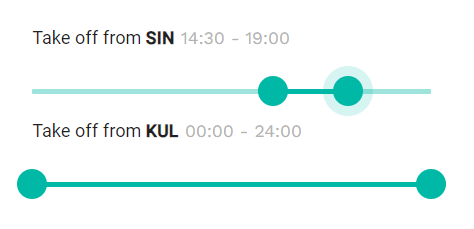 Both of these fields are completely optional, and you can proceed with just the airline selected, or the time of departure filter selected. Once you are satisfied with the search criteria, just click on "Find flights" and we will get the results with the additional parameters you've specified.
If still could not find the flights you wanted, or you have any questions or concerns about searching for a flight, don't hesitate to contact our customer support team who will be happy to assist you. You may reach out to us via live chat support or by mobile at +65 3129 2139. Alternatively, you can also reach us via email at support@trutrip.co