You've booked your flight in TruTrip, and your departure date is coming soon. Here are some tips on how to prepare for your flight and making sure that you are ready to fly!
Checking the validity of your documents
It is always a good idea to double check and make sure all the documents needed for travel are still valid.
Starting with your

passport

, most countries will only accept passports with more than 6 months of validity. So if you passport expires within the next 6 months of your departure date, you'd better renew your passport soon.
A

visa

is also a common occurrence for traveller from certain countries, make sure you have relevant visa or entry permits before you check in to prevent any issues prior to your departure.
You can check what visa is needed and additional entry requirements by checking the fit to fly section under "Trips".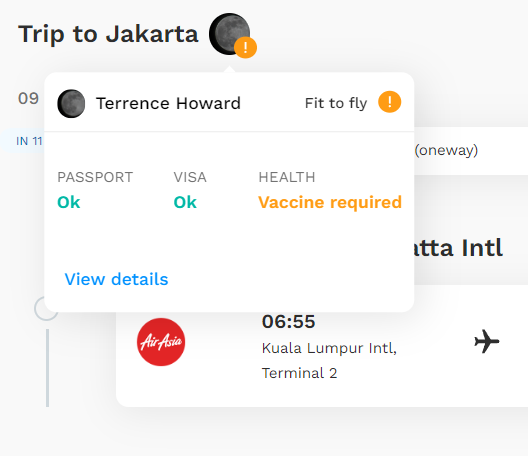 You can also view the details of what is needed to enter your destination country, and get links to relevant government website to find additional details. Always double check with your destination country government websites as entry requirement can change anytime.
Online check in, Selecting seats, and meal
72 Hours prior to your flight departure time, we will send out an email to remind you about your upcoming flight. We will also include the necessary information to aid your online check in process. In general you can initiate your online check in process for your flight between 24 to 48 hour prior to the departure time of your flight. This duration will vary between airline, the best way to check is to directly access the airline's website that is linked in the email we sent. If you want to check the details of your booking prior to this online check-in duration, you may be able to utilise manage booking function available on most airline websites.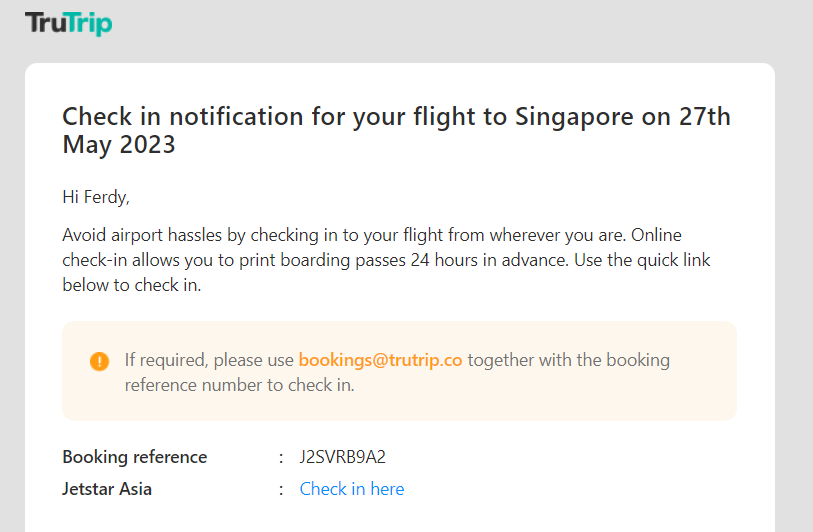 What you need to access Manage my booking, or Online check in would be the same,
You would need to find your Passenger Name Record (PNR) or Booking Reference code, this is the 6 digit code that is available in the reminder email, the booking voucher, or through trips.
You would need to enter your last name as it is written in your Passport.
Sometimes the airline website would also ask for the email that is used during booking. If this is the case, then please use bookings@trutrip.co as the email.
During your check in process, you should have your passport detail nearby as some airline would require you to enter your passport details again. Afterwards, you may be entitled to seat and meal selections.
That's it! After this you're basically ready to fly! Should you have questions about your trip, please do not hesitate to contact us at+65 3129 2139 or email us at support@trutrip.co.