Whenever you search for a flight, you will often have the possibility to compare fares by clicking on "view flight options".
Depending on the airline, there are multiple options available.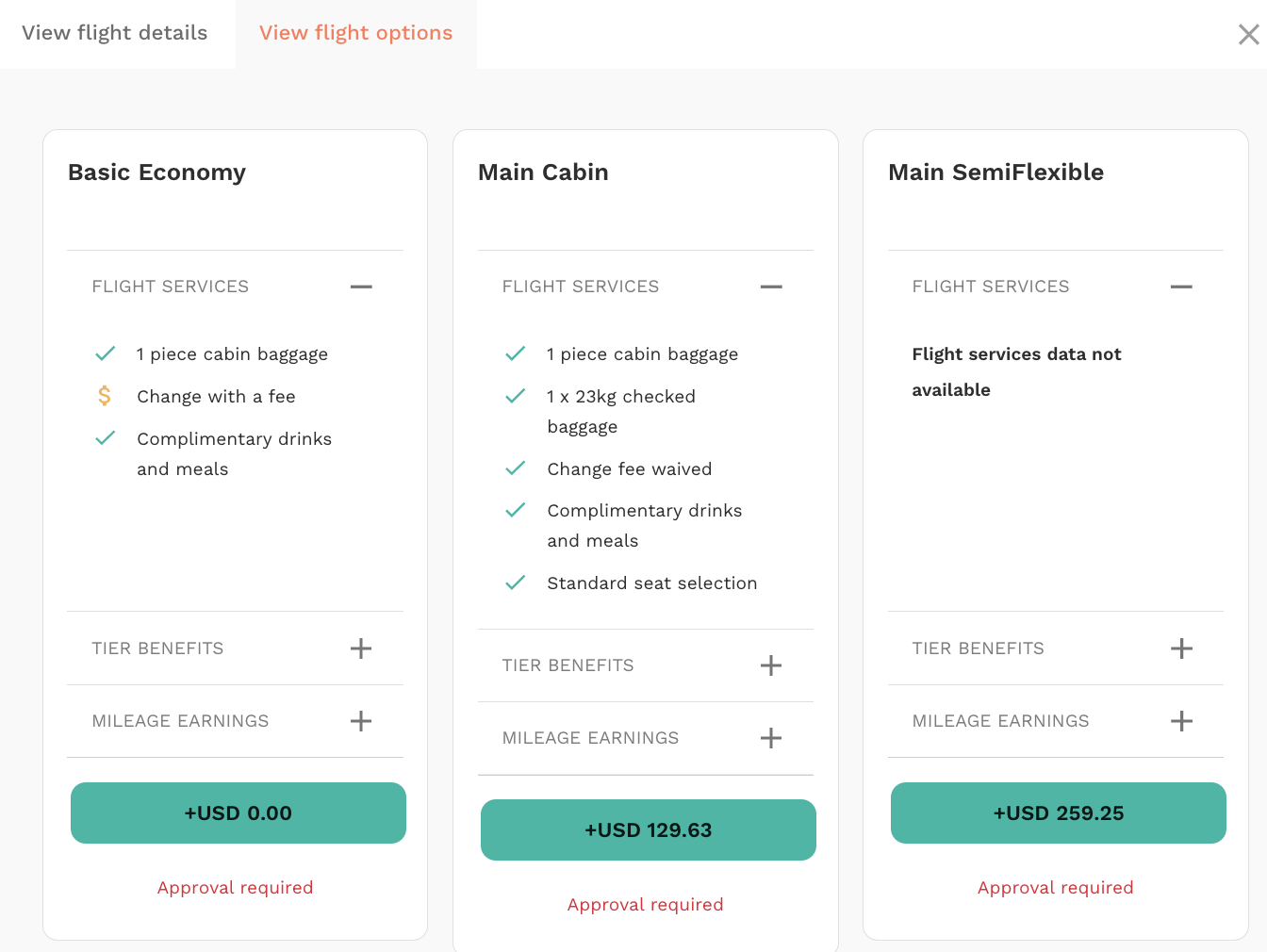 Flight fare options explained
Every airline has their own way of structuring (naming) their fare types. Most of it comes to marketing and making it sound attractive but this can cause some confusion, especially if you need to compare airlines.
It's good to understand that there is a difference between classes (Economy, Business, First) and fare types (Flexi/Value/Premium/etc). So for example you can have a Premium Economy flight, offered by KLM where Economy is the class, and "Premium" would be the fare type.
Fare classes
Economy class
The most booked and purchased ticket class. Underneath, airlines will have their variants like "Economy saver", "Economy value", "Economy flexi" etc. Economy class tickets are sold in many variants and forms. See the fare types below to learn more about that.
Business class
Business class seats are typically larger and more comfortable than economy class seats and may recline further. Business class passengers also usually have access to better food and drink options and exclusive airport lounges. Additionally, they may receive priority boarding, baggage handling, and check-in.
First class
The most luxurious and expensive class of travel, offering the highest level of comfort and service. Benefits typically include spacious seats that recline fully, personal entertainment systems, gourmet meals, and access to exclusive airport lounges. Additionally, first-class passengers are usually given priority boarding, baggage handling, and check-in, and are often allowed to bring more luggage than economy or business class passengers.
Fare types (options)
Fare types are applicable to both economy, business and first class tickets. They can vary drastically per airline but it (almost) always covers a 3 main topics: baggage fee, refund-ability and flight rescheduling.

1. The cheapest fare type
Often called something with "saver" / "value" / "lite"/ etc. For example with Singapore airlines it's called "Economy lite" but with Emirates, they called it "Saver".
Things to note when booking the cheapest economy fare
Some airlines (for example Malaysian Airlines, KLM, Air France) does not include checked baggage with the cheapest fare.
If baggage are included, typically the allowance is lower than regular/standard economy.
Changing your flight is often not possible or is charged at a high fee
Refunds are in many cases not offered
Seat selections are often possible, but pre-booking is charged at a higher premium.
The standard fare type
Often referred to as something with "standard", "flex", "convenience" For example for with KLM it's simply called "Economy Basic" but with Singapore Airlines it's called "Economy Standard"
Things to note when booking the standard economy fare
Checked baggage is often (but not always) included in this fare
Seat selections are often free, with exceptions of extra legroom seats (which you will pay additional for)
Changing or rescheduling is typically allowed with a change fee.
Partial refunds are often available, depending on the airline
The flexible ticket
This is usually the most expensive fare type within your class. Airlines often refer to them with "plus", flexi", "comfort", etc. In the TruTrip app it's the fare type you will always find on the most right side of your screen when comparing.
Things to note when booking the standard economy fare
Baggage is (almost) always included and sometimes with a higher allowance than other fare types
Seats can usually be selected up front, sometimes including the extra leg room seats
Changing or rescheduling your flight is free most of the times (although can be limited to once or twice only).
For most airlines, full refunds are offered.
When booking your flight in TruTrip
When you search for a flight and click on the "view flight options" tab, you can see the different fare types available. Example: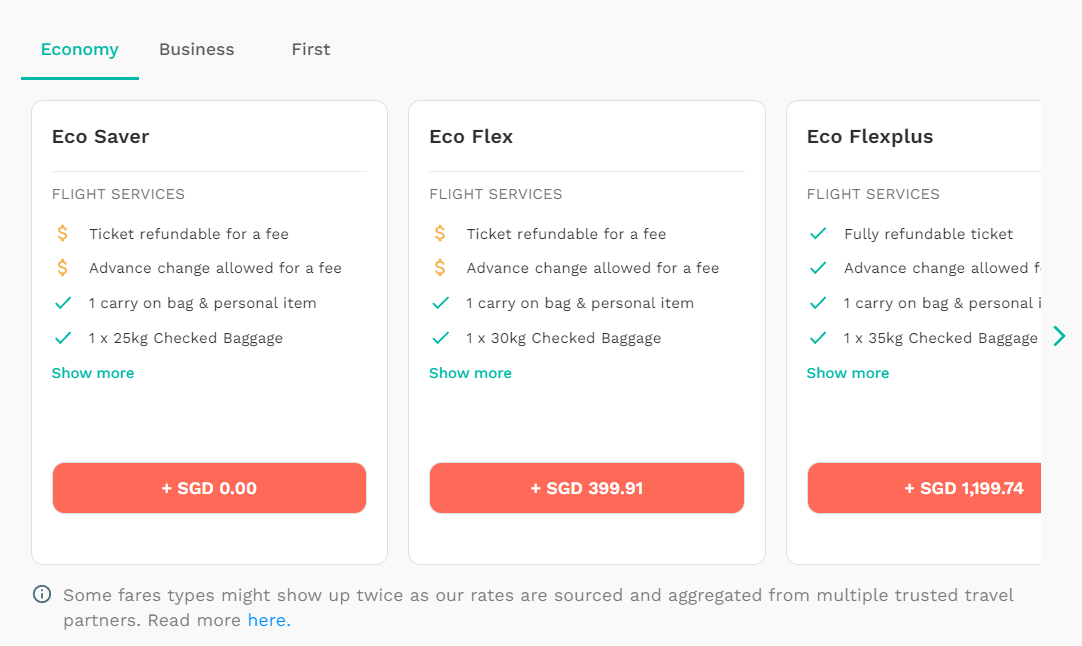 You can also click on "show more" to view the full details of in flight services that are included in the fare.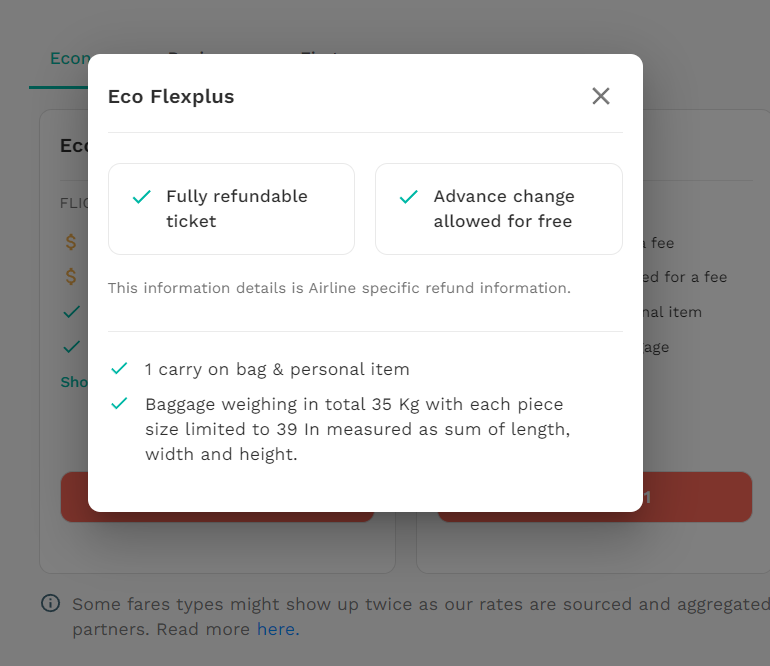 IMPORTANT NOTE:
The fare option information we provide is aggregated from our partners. This means that the labels are coming from the airlines and can cause confusion. We've had reports that occasionally duplicate fare types show up.
When in doubt:
Always check the flight services, tier benefits and mileage earnings to understand the differences
Occasionally data can still be confusing, in that case just reach out to the support team and we'll be happy to check out the difference for you and help you book.