Note: the information below only applies to train tickets booked inside Mainland China
After your train ticket has been issued, it could happen that you need to change your schedule or cancel your booking altogether.
What are the rules for changing a train ticket?
Train bookings can only be changed as long as there are other available tickets . What you are allowed to change: D

ate & time of travel, train number, s

eat selection.

Note that the departure station and arrival station (except for stations in the same city) cannot

be changed.

You can only request a ticket change if the departure date is more than 48 hours from the moment of requesting the change
If you'd like to change your ticket within 48 hours of train departure, then you can only change your ticket to a different train ticket departing on the same date as your original ticket.
What are the rules for a train ticket cancellation?
You may cancel your train ticket and get a refund up to 24 hours before the train's departure. If you would like to cancel your train ticket within 24 hours of departure, please reach out to our support team ( +65 3129 2139) so we can check possibilities.
When you decide to cancel your train ticket you will be refunded the full amount of the booking excluding the cancellation fee which as of November 2022 is 40CNY (approximately 5.50 USD).
How to request a train ticket change or cancellation?
If you want to request a train ticket change or cancellation, log in to the TruTrip platform and simply hit the chat button at the bottom of the page or send an email with your request information to support@trutrip.co .
Don't forget to add your booking details (date, itinerary, and booking ID) which you can find on the trips page: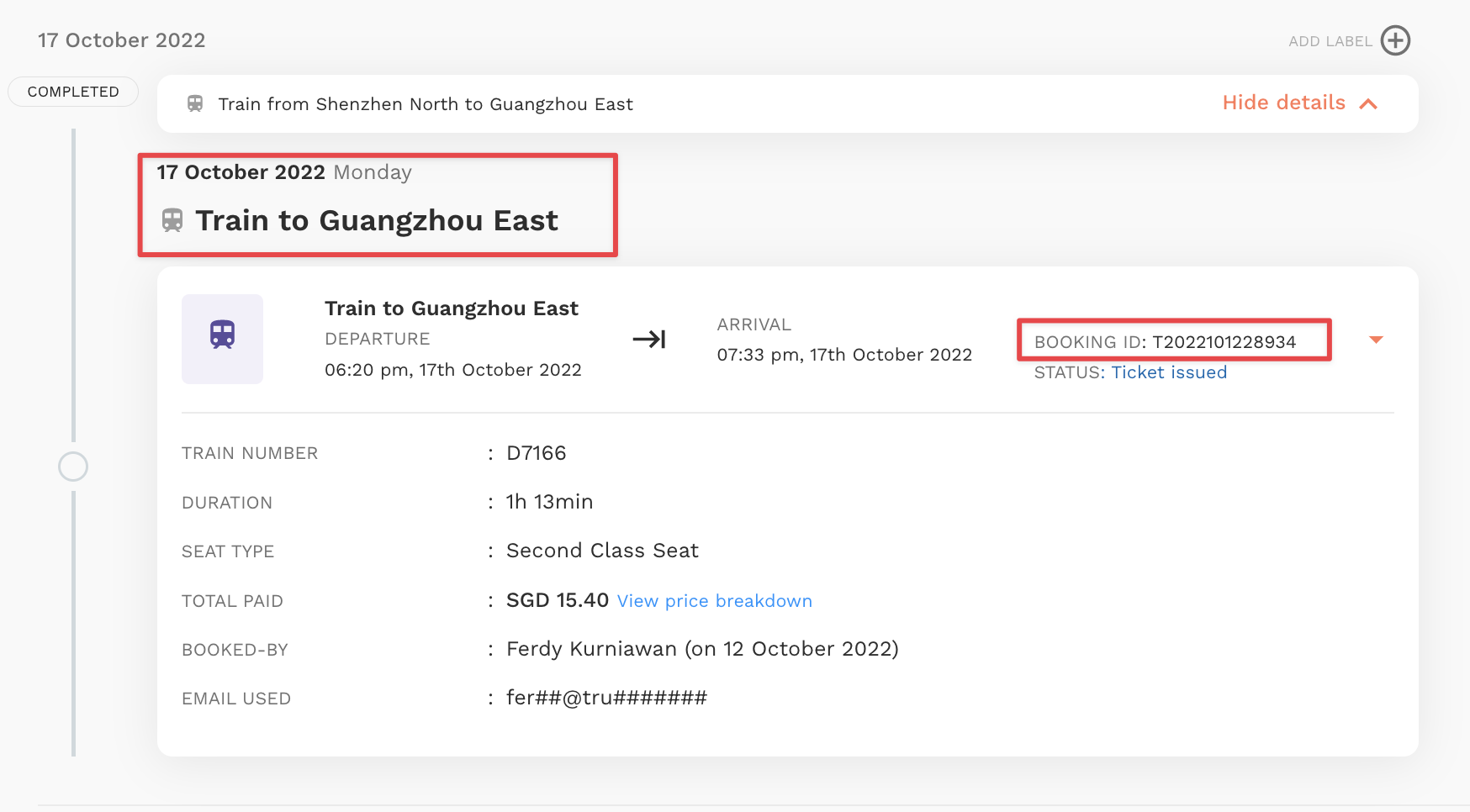 Our support team will reach out to you with the options and any additional payment instructions required (if any).
If you have any further inquiries about cancellations or refunds, please do not hesitate to contact us using the chat support function on the bottom left of your screen or call us at +65 3129 2139 . Alternatively, you can email us at support@trutrip.co .